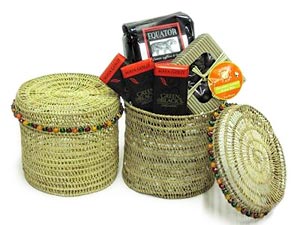 If you are looking for a unique handmade gift that is both a splash of art for the eyes and a tasty treat for the palate take a look at this fair trade gift basket
. This simple yet beautiful handmade beaded basket is chock full of fair trade organic goodies.
Includes organic fair trade coffee, three organic fair trade chocolate bars and is rounded off with a box of fair trade chocolate-covered Brazil nuts - well on second thought maybe you'd rather just keep this one for yourself - I won't tell...
I stumbled upon this fun handmade gift basket while looking over the fine selection of eco goodies on eBay's World of Good - if you aren't familiar with it stop by and take a peek. There are plenty of fun eco-friendly gift ideas.
This particular fair trade coffee and chocolate gift basket is sold by EcoExpress Gifts which has the Green America Goodprint verification on World of Good. Which means this business adopts principles, policies, and practices that improve the quality of life for their customers, their employees, communities, and the environment.
At the time of this post this fair trade coffee and chocolate gift basket is on sale for $47.05 with only 4 remaining.
Find more fair trade and organic gifts from EcoExpress Gifts for sale below.