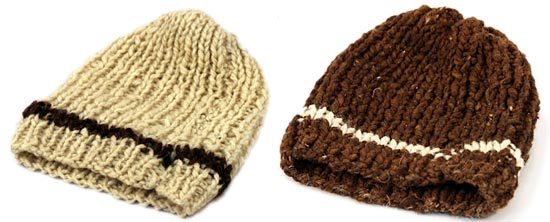 Have you ever had one of those moments where you kick yourself for not thinking? I never have, especially the time I ran my SmartWool winter hat through the wash and more importantly the dryer.
Fortunately for me I didn't end up with a thimble sized winter hat - but unfortunately it did shrink and now no longer covers my ears without stretching it as far as I can and wrapping my head with duct tape. Since I don't particularly like the fashion statement of a duct tape wrapped head, I need a new winter hat.
I was looking at some of the latest fair trade goodies on eBay's World of Good and I came across a couple super warm looking hand woven winter hats made from African sheep wool. These wool hats are woven by Kenyan women looking to improve their lives and share their excellent weaving skills with the world by making knit hats and scarves.
Working with the Village Markets of Africa (or VMA) Cooperative these women are able to sell their hand made wares to those of us looking to replace our dryer mistakes, or just support the fair trade movement.
These fair trade wool winter hats
are selling for a very reasonable $10.95 plus shipping.
Below you'll find these winter hats
as well as other fair trade offerings from VMA.