I was perusing the halls of eBay looking for interesting eco-friendly products to write about when I was smacked in the face with a unique eco-nique from i-nique - and since that is a lot of niques my interest was immediately piqued by this cool Nook cover.
Eco-nique: not just a cool Nook cover that's fun to say real fast
What is an eco-nique you might ask (after your tongue unwinds from saying unique eco-nique from i-nique 5 times real fast). The Eco-nique is part of a line of superbly cool and creative cases made by i-nique (products sold through tuff-luv.com)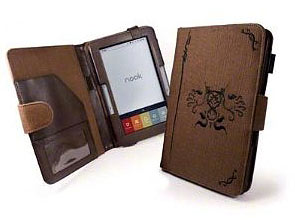 They make cases for just about any device you've ever heard of (and maybe even a few you haven't) including mp3 players, phones, cameras, laptops, GPS devices and other e-readers and tablets like the new Kindle Fire and Nook Color.
The product that grabbed my attention - and the line I think you'll dig as well is the eco-nique natural Hemp Nook cover for Barnes & Noble Nook (they have the hemp case covers for sale for other devices as well)
Since I am a new Nook owner I wanted to find a cool Nook cover to keep it nice and safe - and spruce it up a bit to boot. The Eco-nique hemp cover for the Nook turned out to be a good choice. It is very secure, well crafted and a perfect fit for the Nook (and looks slick with the Nature screen saver images)
But What Does a Hemp Nook Cover Feel Like?
To be honest I was curious to see what the hemp Nook cover would feel like - when I think of hemp I think of a coarse burlap, but the eco-nique hemp Nook cover feels great - nice and soft with a touch of padding beneath so if it does slip out of your hands as you fall asleep reading it won't crack you in the noggin' (unless you get it on the corner - ouch!)
The interior material is also nice, an imitation leather that feels a lot like real leather. The Nook fits very snugly inside with plenty of access to the power button on top, the page turning buttons and the ports on the bottom so you don't have to remove or move around the Nook to get to anything.
I like the book style covers for the Nook and the eco-nique hemp Nook cover just so happens to be the book style so you can fold over and clasp the cover for easy reading.
My one disappointment with eco-nique hemp Nook cover (and I'm being pretty picky) is with the color - the color itself is just fine a cool (as in temperature) medium dark brown which is attractive, but it wasn't what I was expecting based on all the photos I had seen. In every photo around the internet it is shown as a warmer lighter chocolate brown. That's the difficulty with monitor settings eh? You never know. They now offer a new Autumn Brown color which is an even lighter more of a creme color if that fits your fancy.
Where can I find the Eco-Nique Nook Cover for Sale?
Over all though if you are looking for a unique hemp cover for your Nook or other electronic devices check out tuff-luv.com (if you use coupon code: youtubevideo you can even get 10% off your purchase - so you might as well buy one of their many other cool designs as well)
i-nique (and tuff-luv) are based out of the UK so if you happen to live in the UK you'll be treated to free shipping - if you live outside the UK you'll have to cough up some cash for shipping and wait awhile for delivery. Or you may be able to find an Eco-nique hemp Nook cover on eBay if you want to enjoy it sooner. Look for hot Deals for hemp Nook covers and maybe even the eco-nique if you are lucky.
Check out all the Tuff-Luv hemp cases for sale on eBay
No items matching the keyword phrase "tuff-luv hemp" were found. This could be due to the keyword phrase used, or could mean your server is unable to communicate with Ebays RSS2 Server.