Winter chills bring sniffles and pills but with this all natural cough remedy, a food based cough syrup you can give your kids some relief without risking harmful over the counter "medicines".
There is nothing worse than hearing one's child suffer through a winter cold and the hacking night time cough that keeps them tossing and turning all night. It gets to the point where you'll even consider giving them over-the-counter medications (that frankly have some pretty dangerous ingredients) just to give them a few hours of relief. If you've been trying to replace as many harmful children's medicines with all natural ones take a look at Maty's Quiet Relief Cough Syrup - a natural cough suppressant.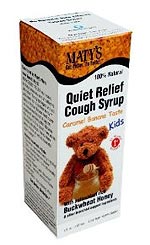 Many natural cough remedies for children (and adults for that matter) get a bad rap when it comes to how well they work so you may wonder "does Maty's Quiet Relief cough syrup work?" I'm always interested in trying a new natural cough remedy so when I was looking for something to give the kidieos some bliss from a particularly nasty night time cough I thought I'd try some and I am glad I did. ( I tried the Maty's Kid's Quiet Relief Cough Syrup, Caramel Banana Flavor
)
After about 7.5493 minutes (okay I didn't actually time it but I'd say around 5-8 minutes) the coughing stopped and they finally fell into a peaceful sleep - peaceful for them as well as us! The directions state to take it every 4 hours and that is about how long the relief lasted, 4 or 5 hours, so it would be nice if it had a longer duration but to find a natural cough syrup that actually works and works pretty fast I will certainly buy it again.
What is Maty's Quiet Relief Cough Syrup and how is it a natural cough remedy?
Maty's cough syrup is food based so it doesn't have any harmful ingredients, sweeteners, corn, soy, dairy, wheat or yeast. I don't know the process by which it is made but I would guess that this is a raw food cough syrup which is even better because all the healing properties of the ingredients would be kept at their most potent levels.
Maty's cough syrup is made from antioxidant rich Buckwheat honey which has been shown to improve respiratory function. It also contains Cinnamon, Zinc, Apple Cider Vinegar, Cayenne Pepper, Sea Salt, and Lemon Balm each of which have numerous healing properties - too numerous to list even, but here is the information from the box.
Maty's Natural cough remedy ingredient properties
Cinnamon: promotes healthy breathing
Zinc: provides immune support
Apple Cider Vinegar: promotes healthy mucus flow
Cayenne Pepper: aids circulation
Sea Salt: naturally neutralizes toxins in the body
Lemon Balm: has a calming effect
While we tried the Maty's natural cough remedy for children it also comes in a regular, basically the same without the extra banana flavor.