There comes a time in every little girls life when she forms an opinion on style and what she wants to wear - little did we know it would be age three! If you walk into our daughter's room around bedtime you'll most often find a complete body print of the outfit she plans on wearing the next day. An eclectic blend of clothes and styles will greet you complete with puffy skirt, tights, shirt (most likely pink) and even necklaces and jewelry. Now there is a new addition to that colorful pile.. her new Jambu Splendor Fuchsia girl shoes.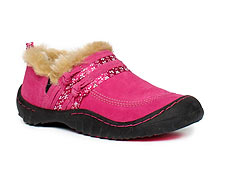 I fell in love with Jambu shoes last year. Since then Jambu have really come out with a fantastic collection of creative new styles for girls and women. These Jambu Splendor girl shoes are one of my favorites. They make the perfect fall shoe with a warm faux fur upper lining. And the memory foam foot bed is such a treat for the feet I wish all MY shoes were that cushy. Plus Jambu really knows how to create a cute shoe, the brushed suede looks (and feels) great with the flowered ribbons that arch across the face of the shoe. Not to mention the cool pattern on the tread that not only looks good but has a nice grip even while climbing over rough or rocky terrain (for those fall nature hikes or all day treks in the mall).
If your little girl loves something a little flashy, cool and comfortable yet you want a good quality shoe in which they can play hard and be a kid I think you'll love these Jambu girl shoes too.
Jambu Splendor Designer Girl Shoes Features
Very soft Contoured Memory Foam footbed
Partially recycled non marking outsole with great traction
Toe and heel bumpers help protect the shoe
100% recycled and recyclable packaging
Very cute creative fall kids shoe - I love the fuzzy faux fur!
What We've Learned from Previous Jambu Girl Shoes
We've had several Jambu girl shoes purchased new and used and we've been very happy with how they have held up with two very active kids. Here are a few things we have noticed with our Jambu kids shoes:
Tread still in very good condition throughout with some slight wearing after a year or more of use
Stitching is all still intact (even around velcro strap with the shoes with velcro) - no fraying or breaking
Toe bumper really helps save the shoe from excessive wear - the shoes look nicer longer
We have been able to get a second (or third when we have bought used) use out of them and they still hold up great
Overall we have enjoyed our Jambu discovery. The company seems to be dedicated to creating new cute styles that not only look great but hold up in all types of use. If you are looking for cute comfortable girl shoes I think you'd be very happy with Jambu as well. And if you are looking for fall girl shoes the Jambu Splendor is a winner in my book.
Check out these other fun girl shoes for sale from Jambu