I love a good cup of chai tea on a cold winter morning. Black tea has antioxidants that help the body to eliminate free radicals from the body, thus fighting colds and flu, heart disease, and possibly even cancer, but when you have some delicious organic chai to sample when the weather heats up it's a bit of a dilemma. Thank goodness for the noggin' using person who thought of iced chai tea!
As with any gourmet drink or dish there is an art to making the best iced chai tea, and it starts of course with the chai tea itself. I had the opportunity to try out a new to me organic chai tea from LeafSpa makers of premium organic loose leaf teas.
The LeafSpa decaf chai is a spiced Darjeeling black tea infused with organic cinnamon, organic ginger, organic cardamon, organic pink peppercorn, and additional organic cinnamon, vanilla, and ginger flavor. That's a lot of organic goodness that combines to make a delicious nicely spiced warm and soothing chai tea. But again, unless you are in the middle of a thunderstorm and need the warm reassurance of a good cup of chai you'll want another use for your tea during the hot summer months.
Along comes iced chai the summer savior for tea drinkers. But here is a healthy indulgent iced tea recipe with a twist: a chai tea smoothie a-la-natural health goodies...
Our Chai Tea Smoothie Recipe
(or if you like fancy names it could be the Earth Friendly Goodies Secret Ingredient Goody Goody Gum Drop Chai Tea Smoothie without the Gum Drops - but that takes longer to say than it takes to make so maybe not)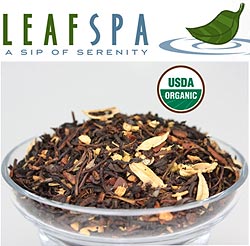 First make up a batch of chai tea:
Use 1 tsp loose leaf chai tea per 6oz cup of water
Heat cold water to a rolling boil and let sit until the temperature is between 180-200 Degrees F
Steep tea for 2-3 minutes or to desired strength
Allow your chai tea mixture to cool (it can be left in the fridge over night if you like) and then pour into a blender along with enough vanilla frozen yogurt so its nice and creamy.....
Last but not least is the super secret natural health ingredient.. drum roll please... bda bda buda bda (how do you type a drum roll anyway?)
Vanilla Kefir!
Kefir, if you haven't heard is a probiotic yogurt-like cultured milk that has tons of good for you digestion and immune boosting benefits and makes a nice addition to smoothies or in this case chai smoothies.
Blend all ingredients until frothy and rich pour and enjoy. And then try to say "Natural Health Goodies Secret Ingredient Goody Goody Gum Drop Chai Tea Smoothie without the Gum Drops" five times real fast.
I have several more LeafSpa teas to try so please subscribe and stop by again for more LeafSpa Organic Tea reviews and recipes. Bad news for organic tea lovers ... it seems LeafSpa is no longer in business, but this chai tea smoothie recipe can still be enjoyed with any of your favorite organic teas.