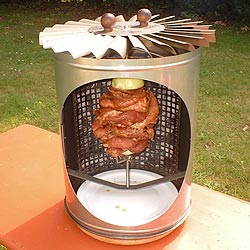 When I first saw this video for the KipGrill I was thinking "wow solar or wind powered grilling!" Not quite, but still super cool. Here's the deal, the KipGrill uses the ascending hot air from the coals to drive the rotisserie, therefore no electricity, batteries or other power sources are needed making this one wicked earth friendly outdoor rotisserie grill. Well almost.
You still have the environmental impact of the charcoal briquettes but there are some eco-friendly charcoal options (again mostly eco-friendly). Check out The Naked Wiz's Lump Charcoal Database for a rather extensive selection of all natural and sustainable charcoal briquets. If you love charcoal or wood grilling you'll go nuts over this selection of goodies to try.
Take a Look at These Eco-Friendly Coconut Charcoal Briquettes for Your Kipgrill
Have a happy Memorial day and happy grilling with your Kipgrill from Earth Friendly Goodies!