Every once in awhile you make a meal that just works, it is easy to make and everyone loves it. (if you have kids or a picky spouse that instance can be quite rare and always treasured). That was the case with this potatoes and scrambled eggs recipe.
Just this past Christmas Santa's little elves came up with a winner and granted my wish with the book Nourishing Traditions
. If you haven't heard about this natural health resource / cookbook check it out at the library or grab yourself a copy on ebay it really is an eye opening book.
As a new Nourishing Traditions owner it is easy to become overwhelmed with all the prep that can go into a simple recipe if you want to make it in the most, well nourishing traditional way. This morning I was perusing the book for ideas and something must have sunk in because I was inspired to try something new.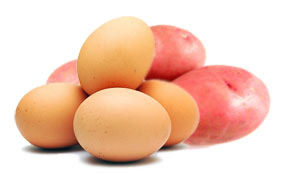 I have to admit I rarely cook from recipes - usually I use cookbooks for ideas and I let the kitchen creative bug take over… a dash of this, a sprinkle of that and somehow it comes out tasting just fine (or maybe not given the instances of 'I don't like that' from the kids, but picky kids will be picky kids). So this morning I came up with a new scrambled eggs recipe based on a Nourishing Traditions inspiration.
I often get mixed responses from the kids as far as scrambled eggs goes sometimes they like it other times I get the automatic response mentioned above. Well with this red potato and scrambled eggs recipe I "creative kitchen created" it was an overwhelming winner….
Ok fine, enough back story what is the scrambled eggs recipe already?
What you'll need: (since this is a natural health blog I try to use the best ingredients I can get my hands on which would be eggs from pasture fed hens, organic potatoes, cultured butter from pastured cows, farm fresh organic cheese etc.. but you can use what you have on hand I won't tell)
Red Potatoes
Eggs
Garlic
Sea Salt
Butter
Cheese
Sweet Onion
Cracked Black Pepper
Fresh Basil
The quantities will vary depending on how many you are serving so use your best judgement.
Potatoes and Scrambled Eggs Recipe Prep
Slice the red potatoes into 1/8 inch slices
Sliver a garlic clove
Dice some sweet onion
Chop up a few leaves of fresh Basil
Cook the slices of red potato in a generous amount of butter, seasoning with sea salt and cracked pepper to taste. I also put a few slivers of garlic in while the potato is sautéing.
When the potatoes are soft in the middle yet have a nice golden brown outer appearance remove them from the pan.
Add an additional pat of butter and the rest of the garlic to the pan until the garlic is a nice toasty brown. Add your scrambled eggs to the pan as well as the fresh basil. When the eggs are nearly done put in a handful of grated cheese, sweet onion and any other seasoning you like. I have a homemade seasoning blend in a grinder with dried basil, rosemary, garlic, sea salt, pepper corns and toasted sesame seeds that is just wonderful.
Serve it up and hopefully count the smiles, thank you's and 'I love it's' and save them for a rainy day.
If you think you might try this Potatoes and Scrambled Eggs Recipe, or have a favorite of your own please leave a comment below.
This post on an NT style red potato and scrambled eggs recipe shared on The Weekend Gourmet and Real Food Wednesday.