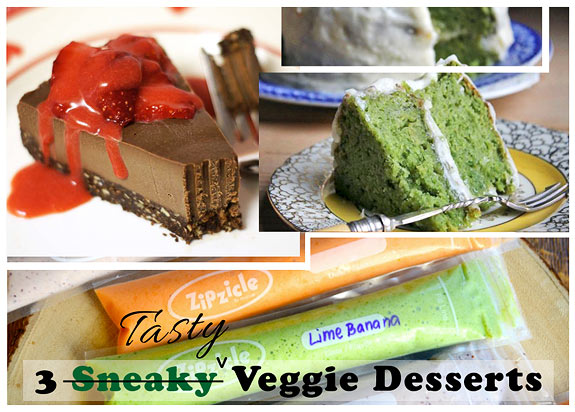 I love to get creative in the kitchen but finding ways to win over picky eaters with veggies can be challenging. I decided to do a little exploring and found 3 bloggers with super fun dessert or snack ideas that used vegetables in a creative and sneaky way that looked as good as they tasted.
What better way to slip in some veggies than hiding them in desserts!
This first idea comes from Kristen from Make the Best of Everything.
DIY "Go Gurt" with Hidden Veggies
A simple rule of thumb is to match your vegetable and fruit colors ie.. orange fruit with orange veggies, green with green, or get wild and crazy and go for that elusive purple purple combination, hmmm can you think of some purple fruits and vegetables?
Here are a few ideas (see the full recipes from Kristen here)
Apricot with Carrots
Banana, Lime and Spinach
Strawberry, Blueberry, Banana and Spinach
You can come up with your own combinations depending on what you have on hand. Simply blend them all up and put them in your container of choice. Two easy options are Zipzicles which are ready made plastic zip-lock freezie-pop bags or if you want the earth friendly re-usable solution you can get silicone ice pop molds that you can use as many times as you like.
Another yummy dessert that just so happens to hide a full cup of zucchini among the delicate folds of creamy chocolate is this Chocolate cheesecake recipe from Megan the Detoxinista. This gluten-free and dairy free cheesecake makes use of some very creative methods to give you the taste and texture of a traditional cheesecake without the cream cheese by using cashews and zucchini of all things!
Raw Gluten-Free Dairy-Free Chocolate Cheese Cake
Despite the ingenious experimental ingredients in this recipe it is really simple to make with ingredients you most likely have on hand.
For the full recipe and preparation instructions visit Megan at the Detoxinista. But for the quick and easy list of goodies in this raw cheesecake you'll need to read on.
What You'll Need
For the crust:
Raw pecans
Coconut oil
Cocoa powder
Maple syrup
Fine sea salt
For the filling:
Raw cashews (no need to soak)
Peeled & diced zucchini
Cocoa powder
Maple syrup
Vanilla extract
Fine sea salt
Coconut oil, melted
Our last recommendation for vegetable sneakiness comes from Kate in the United Kingdom and makes use of apples and kale in a scrumptious green cake perfect for St. Patrick's Day or any day you are feeling like you want a colorful dessert that will get everyone's attention right from the first glance and keep them asking for more after the first bite.
If you are looking for more veggie dessert ideas than you'd ever thought were possible Kate has the market cornered over at Veggie Desserts.
For this stunning green vegetable cake she pairs fresh kale with applesauce to give you a moist treat for all senses and sneaks in those veggies pretty nicely for any of your picky eaters. If you thought kale was only good for green smoothies you'll be delighted with this other option.
Kale and Apple Cake with Apple Icing
For the full recipe and preparation instructions visit Kate at Veggie Desserts.
Ingredients
Fresh kale leaves, woody stalk discarded
Eggs
Rapeseed or vegetable oil
Vanilla extract
Applesauce
Sugar
Apples, peeled and grated
Flour
Baking powder
Salt
For the Apple Icing
Powdered icing sugar
Butter, softened
Applesauce
Vanilla extract
I hope you enjoyed our quick collection of veggie desserts as much as I had finding them. What kind of ways have you found to hide those veggies and get a bit more vegetable goodness into the tummies of your loved ones?