Despite the copious piles of fluffy white stuff strewn about the yard there are tendrils of Spring weaving themselves into each day with promise of more to come in the following week. (I like to help the melting along by kicking a bit (aka gobs and gobs) of snow into the driveway now and then - every little bit helps). This Spring I look forward to trying my hand at a bit of gardening as I've been enticed by a good dose of healthy green smoothies.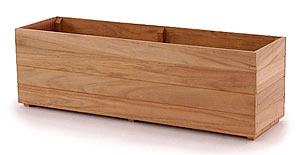 We don't have a big yard but there is always room for a bit of green thumb experimentation with wood window boxes and other window box planters. I was looking to my good friends over at eBay World of Good and found some beautiful Fair Trade Teak window boxes for sale by Goods for the Garden. These fine window boxes come with everything you need to get and early jump on Spring including solid teak window box brackets and teak footings to allow for proper drainage.
Teak is such a beautiful wood with such a soft whirling grain and smooth warm feel. These teak window boxes are even better because they are crafted from teak grown from reforested areas throughout Costa Rica by a producer that adheres to the principles of the Forestry Stewardship Council. Diamond Teak has 12 plantations that protect more than 1000 acres of jungle and provide safe haven to diverse flora, fauna and 70 species of trees, including mahogany, purpleheart and cocobolo rosewood. These hardwoods make wonderful furniture but have a bad reputation because these rare forests are being logged to extinction, not to mention logging contributes to habitat destruction, water pollution, and the displacement of indigenous peoples. The Forestry Stewardship Council strives to make sure these forests are maintained in a sustainable and safe way for the environment.
What this all means is by supporting companies who follow these strict guidelines you can feel proud to know you are getting a beautiful product in the most environmentally friendly way. I also love to hear companies going one step further... Goods For The Garden is committed to preserving America's historical gardens, landscapes, green spaces and mother earth! They contribute 5 percent of the purchase price of every product to an organization of your choosing or to their 1 Percent For The Planet Fund.
Now that's an Earth Friendly wood window box that will keep on giving year after year - plus you can get an early start on that Spring planting. As for me, I'm going to go kick some more snow into the driveway and think about what I want to plant first!
Below you'll find teak window boxes for sale from Goods for the Garden