I was just perusing Amazon's special offers this morning (if you've ever bought anything on Amazon you'll know those offers spring up like a spring dandelion patch) most dealing with a timely nudge to be green for Earth Day when my attention was grabbed by the roots by the number one selling book on Amazon - All New Square Foot Gardening by Mel Bartholomew.
Since everything is starting to green in our yard I've had the itch to start a garden, nothing fancy maybe just a little patch in the corner, but I'm a terrible procrastinator (like right now I should be writing the rest of this post yet I am going off on a tangent about procrastinating) Now where was I?
Oh, yeah this intriguing book that has been on the Amazon top 100 book list for over 3 years! That's what caught my attention - next was how does a gardening book stay in the top 100 for 3 years not to mention who knows how long at number one.
Looking at Square Foot Gardening I can see why - it is a super simple method to gardening that claims 100% of the yield with 20% of the space - which fits right in with my plan for a little back yard garden. Not only that but Mel reveals his secret soil mix for perfect growing conditions (and never a need for fertilizer): 1/3 compost, 1/3 peat moss, and 1/3 agricultural grade vermiculite spread out in a 4ft by 4ft box. (oops did I just ruin the secret?)
This new version of Square Foot Gardening called All New Square Foot Gardening (pretty original title huh?) Reveals 10 new and improved methods to make the whole process more efficient, easier, and well, garden-tastic. Take a peek at the video and see if you are as excited to get outside as I am - in fact I'm outa here the sunshine is calling...
One last note though, Mel has also written a delightfully delicious book called All New Square Foot Gardening Cookbook (he's got a good thing going with his naming so why change it I guess) that looks to be as savory as the fresh herbs and veggies coming out of the garden.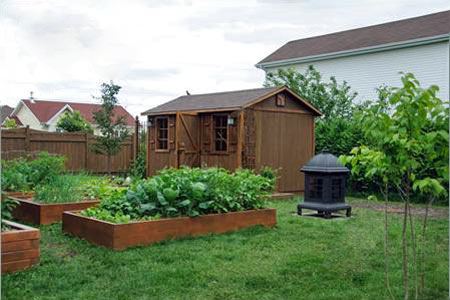 What are you planting in your square foot garden this Spring? (and when can I come over for dinner?)
This Square Foot Garden Review Post Shared on Fight Back Fridays