Spring is still calling... very softly for those of us up north, but when that warm sun teases me through the window I start to get in the mood to play in some dirt and try my hand at growing some nice healthy weeds along with my spinach and basil.
Last year I had discovered Square Foot Gardening one of the best selling garden books on Amazon and at the time had noticed a follow up book aptly named All New Square Foot Gardening Cookbook. Now, I am a complete cookbook geek especially when they have good pictures (why a cookbook wouldn't have enticing pictures is beyond me) and this Square Foot Gardening cookbook is a beauty.
Mel Bartholomew Speaks about his Gardening Cookbook
Plenty of nice large colorful pictures of not only the dishes, but also of the vegetables and herbs - even if you aren't a gardener you'll have fun with this gardening cookbook. (But after reading this cookbook I'm sure you'll be at least a little bit inspired to try your own garden)
The author, Mel Bartholomew is a whiz in the garden (how beautiful are those plants in his garden by the way? I wanted to eat right off my monitor but it zapped my tongue) he often says eat fresh, eat healthy and eat what you grow and with a garden like that I'm sure you could make fantastic salads right out of the garden.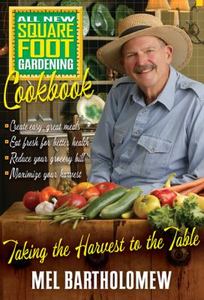 Not only does the Square Foot Gardening Cookbook have more than 135 recipes to enjoy the harvest from your square foot garden (or farmers market, or store if you haven't braved the garden gnomes) Mel adds harvesting techniques and yield information for each of the seventeen vegetables, fruits, and herbs and adds money saving tips, square foot garden tips, and even a kid's gardening corner for lots of family fun.
If you didn't catch my last post on EarthBoxes vs Square Foot Gardening take a peek and try one of these easy methods for yourself then have fun with some fresh from the garden recipes.
Other Gardening Tips in the Square Foot Gardening Cookbook
Planting schedule for continuous crop harvesting
When to harvest plants
How to harvest
Tips for storage
Plant spacing
Kids corner for family fun
This Post on the
Square Foot Gardening Cookbook

Shared on Real Food Wednesday