If you've looked at the ingredient list of your average instant oatmeal I hope you have a degree in chemistry - or a very nimble tongue, and plenty of time on your hands because the list is long and unpronounceable - not a good sign when buying food.
I've recently discovered Better Oats® - quite simply as the name implies - they are better oats. Well, instant oatmeal anyway. Better Oats makes 9 different instant oatmeal brands among them Oat Revolution, Abundance, Oat Fit, Raw Pure and Simple and Mom's Best Organic.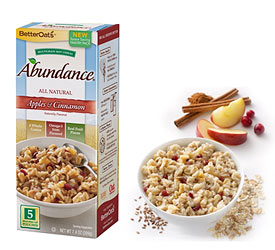 I haven't tried them all, in fact just looking at their website there are some I didn't even know about. But the one's I have tried have a simple healthy ingredient list without all the added junk you'll find in regular instant oatmeal.
While not all of them are organic, many of them are and even the non all natural non organic brands use simple ingredients - for example one of our kids' favorites is the Oat Revolution Strawberries and Creme which isn't organic but the ingredients are as follows: Whole grain rolled oats, sugar, flaxseed, natural and artificial flavor, dehydrated strawberries, salt, and citric acid. Yes you can make a case for the "natural and artificial flavor" being on the not so good list but overall for a non organic instant oatmeal that ingredient list I can live with.
And one thing I love with the strawberries and creme and well, all the Better Oats instant oatmeal's I've tried is the aroma - as soon as that hot water hits the oatmeal the smell is wonderful and rich.
If you are looking for an organic instant oatmeal option try the Raw Pure and Simple or the Mom's Best Organic which have Organic whole grains of Oats, Barley, Quinoa, Rye, and Wheat as well as flaxseed. Even the Abundance might be up your alley as it also has natural Oats, Barley, Quinoa, Rye, Wheat and flaxseed.
In this world of over processed hard to pronounce ingredient lists and just plain cruddy grocery store food it is nice to see a company that cares about health and tries to make healthy products that we will actually feed to our kids (and ourselves of course).