Have you heard about resveratrol and the mysterious Longevity Gene? I know you've been flipping through your favorite health magazine like I have and have been stopped in your tracks by a drop dead gorgeous girl next door with glowing skin and photo-shopped eyes and thought to yourself "whoa hold on what's this?" Only then do you see the "as seen on 60 minutes or fox news" splashed across the top, and the small photo of the doctor in the white lab coat with a "professional" quote at the bottom.
Crammed in the middle is the "buy now or die" spiel. (oh, by the way that doctor with the wise words proclaiming the efficacy of the product 9 times out of ten actually makes the product)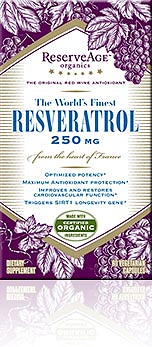 Well that's what happened to me today, although truth be told I was stopped by the photo of the "worlds finest organic Resveratrol" rather than the fair skinned girl next door.
Don't get me wrong she and her glowing Photoshop eyes was perfectly alluring I just wanted to know more about organic Resveratrol. I was in the mood for more fountain of youth fun facts after writing a recent post about lime's healthy skin effects plus I had just seen a Resveratrol product on the shelves at Byerly's while looking for Probiotic Health Daily.
You've heard about the "secret ingredient" in red wine that is supposed to provide many health benefits, well basically it is just a super powerful antioxidant (just like blueberries or green tea) with a fancy name - Trans-Resveratrol. This antioxidant is clinically proven to trigger the mysterious Longevity Gene - probably by the same doctor that made the product.
Well, the good 'ol doc also says ReserveAge Organics pounds in the ani-aging benefits of 1000 glasses of red wine in each dose without the negative effects of wine. I don't know about you but if I'm going to live to 100 I could use a good 'ol schnockering with a nice rich red wine now and then.
If you don't like wine or would rather stay away from alcohol ReserveAge Organics looks like a good way to go despite all the over blown hype and pseudo physician testimonials. It is organic after all.
Plus you can't dispute that the French who consume red wine like we in the US drink bottled water, consume 40% more grams of fat, 4x as much butter, and 60% more cheese per day than Americans, yet the death rate in France from heart attacks is half that of the United States. (although I'm guessing that is in part due to the fact that we in the US eat way more over processed, refined and genetically modified foods rather than real good for you fats, butter and cheeses, but that is a post for another day.)
If you'd like to try out the anti-aging effects of organic Resveratrol from ReserveAge Organics or other Resveratrol products you can find some for sale below from ebay. And as they say "choose the world's finest Resveratrol and experience the difference today!" (or in a couple weeks when it comes in the mail) Don't forget to invite us to your 100th birthday party - we'll bring the wine.