Lakefront Brewery in Milwaukee Wisconsin Hits a Gluten Free Home Run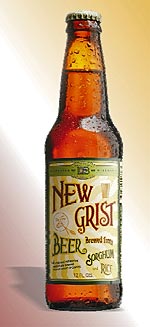 I like to try new things so when I spotted New Grist beer and the label claiming it was all natural and gluten free I had to give it a shot. For those of you with Celiac Disease (an intolerance to gluten) if you've been mourning the loss of a good brew now and then you'll dance in the streets naked after trying this beer. (well, maybe you should put a few clothes on since it is getting a bit cold out these days).
It turns out New Grist beer from Lakefront Brewery is the first beer brewed without malted barley or any gluten containing ingredients to be recognized as beer by the the U.S. government.
So what's in it then you ask? New Grist is brewed from sorghum, hops, water, rice and gluten-free yeast grown on molasses. I was surprisingly delighted to find I really enjoyed it, in fact it had a very crisp slightly fruity refreshing taste - a perfect Fall beer that goes well with a nice juicy burger, a plate of good 'ol spaghetti and meet balls or even a bowl of ice-cream well, maybe not ice-cream, depends on how much you like your beer but it was a very nice accompaniment to a wide variety of tastes and it would make a killer addition to your favorite wing sauce.