Today must have been the day of the coconut because as chance would have it I discovered a good article on the healing properties of coconut oil and soon after a new highly reviewed shredded organic coconut made by Let's Do Organic. (Certified USDA organic; vegetarian/vegan; sulfite-free, unsweetened, 100%-natural, finely shredded dehydrated coconut - yum yum!) Which led me to the idea for this recipe... how to make coconut milk.
I've been using coconut oil for many years now after hearing about all the health benefits of the healthy fats in coconut oil. As you may know one could fill pages on why coconut oil is one of the best oils for cooking, baking, skin care and most importantly your health - perhaps I will at a later date (if you say pretty please). But there are still health benefits to raw foods like coconut meat and coconut milk and what better way to enjoy these benefits than to make your own coconut milk for baking or just plain drinking.
How to Make Coconut Milk from Desiccated Coconut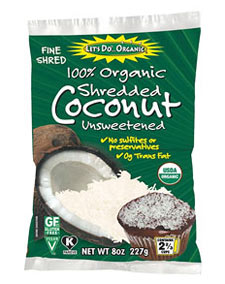 • Put equal parts of unsweetened desiccated coconut and hot water by weight into a blender (ie.. 8oz coconut to 1 cup of hot water).
• Blend for about 30 seconds and allow the mixture to cool a bit.
• If desired, you can strain and press it through cheesecloth or a fine sieve when it has cooled down. This is not necessary for most recipes, unless you require a silky smooth texture for the end product.
• Discard the squeezed coconut meat or you can also soak the coconut in warm water and run it through the cheese cloth again to make "thin" coconut milk which is good for soups and general cooking.
• Refrigerate the milk and use within 1 or 2 days.
• To make a thick coconut cream from desiccated coconut: Use 4 parts coconut to one part water.
If you like doing things the old fashioned way you can also make coconut milk from a fresh or store bought coconut.
How to Make Coconut Milk from Fresh Young Coconuts or Mature Brown Coconuts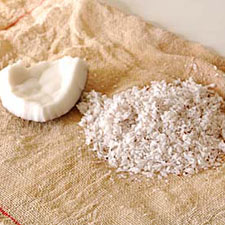 • Pierce the eyes of a fresh young coconut, drain the liquid inside (This liquid, often called coconut milk is not the same as coconut milk used for baking or drinking, although this coconut water is delightfully delicious all on its own so drink away - or better yet add it to the mixture before blending)
• Cut the top off the young coconut or whack, crack and pound the shell of a mature coconut with a hammer (whatever works) so that the shell breaks into several pieces.
• Remove all the coconut meat from the shell, peel off the brown skin and cut the meat into very small cubes.
• Place the coconut meat in a blender, add hot water to cover all of the coconut and blend until finely grated.
• Place a sieve covered with cheese cloth over a bowl and pour the coconut meat and water into the sieve squeezing the coconut meat to extract as much liquid as possible into the bowl.
• Discard the squeezed coconut and refrigerate the coconut milk that has been extracted into the bowl. Refrigerate the milk and use within 1 or 2 days.
Now for the Fun Part: Now that You've Read How to Make Coconut Milk...
If you have used coconut milk in cooking or baking we'd love to hear how you use coconut milk. Please share a story or recipe. And don't forget you can always share a recipe or post on our new Facebook Page! (and please like us - we like friends)