I was digging through an old copy of Popular Science magazine and discovered a review for the Samsung Reclaim M560 cell phone. This Earth Green Samsung Reclaim is, well Green. (Or you can get the Samsung Reclaim Blue - but I'm going somewhere with this so hold your pants) Samsung is following the lead of other tech gadget companies and going green.
Why is the Samsung Reclaim Eco-Friendly?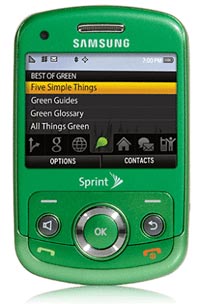 The Reclaim is made from 80% recyclable materials and even sports a case made from 40% corn instead of petroleum - so if you have a corny sense of humor (oops did I just say that?) you'll have bragging rights, and a great conversation starter.
Best news though is that you can get the Samsung Reclaim for cheap - only one penny at Amazon! (well ok you have to get a new service contract but isn't that how it always works.) There are plenty 'o Samsung Reclaim for sale for cheap on eBay of course but you'll have to fight for 'em.
Bottom line though is how does the Reclaim compare to other non eco-friendly cell phones? Pretty well based on some of the reviews I've looked through. Here's the basics:
Samsung Reclaim pros and cons:
Pros:
The battery life is awesome - very energy efficient
Very clean menus and navigation
Fast internet and bluetooth compatible
Easily customizable quick link buttons (Facebook, Google Maps, MySpace, Twitter, YouTube etc...)
Plenty of Samsung Reclaim accessories
And best of all of course is that it is Eco-Friendly!
Cons:
Qwerty keyboard is small so if you have big hands it may take some getting used to
The GPS feature only works with Sprint Navigation
Some have complained the LCD is fragile
If you dig eco-friendly products and want to give this green beauty a try take a peak below for a cheap Samsung Reclaim for sale from eBay or if you just need a case they do have a huge selection of cool Samsung Reclaim cases for sale.