"The laziest man I ever met put popcorn in his pancakes so they would turn over by themselves." - W.C. Fields
You gotta hand it to those lazy people to come up with a new gourmet popcorn recipe no one would have thought of... While it wouldn't have occurred to me to put popcorn in pancakes until I read that quote by W.C. Fields we did enjoy a nice batch of organic popcorn last night with a movie.
I stopped at Coborn's grocery for the first time the other day and found their natural and organic foods section - and just had to try the Natural Flavor organic popcorn made by Full Circle. I also had to keep true to my usual kitchen creativeness and spruce up the batch for a little impromptu gourmet popcorn a-la hot organic butter and a homemade secret garlic herb seasoning mix (just toss your favorite herbs, some garlic granules, and sea salt in a grinder and dash away - ok the secret is out).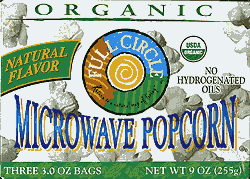 It was the yummiest batch of popcorn I have had in awhile and my secret seasoning mix can't take all the credit because the Full Circle organic popcorn was light, fluffy and dangerously delicious all on its own.
Full Circle makes four types of organic microwave popcorn including Organic Light Butter Microwave Popcorn, Organic No Salt/No Butter Microwave Popcorn, Organic Butter Microwave Popcorn and Organic Natural Flavor Microwave Popcorn. I'm sure the other flavors are scrumptious as well - I guess I'll just have to try them - I know it will be a huge sacrifice but what is a natural health blogger to do?
"Full Circle Microwave Popcorn is produced with only certified USDA organic ingredients by certified organic growers and processors. It is produced on land farmed without the use of chemicals, synthetic pesticides and synthetic fertilizers using sustainable farming methods."