Nothing beats a flaming ball of fire to give a little romantic ambiance to your patio or pool side parties, but if you are looking for something a little less dangerous and more eco-friendly check out these solar tiki torches.
The Solar Tiki Torches Challenge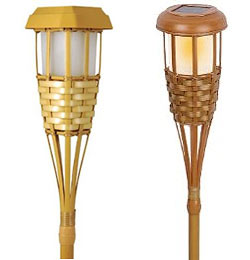 Looking at the solar patio lighting options it looks like there are two contenders for the solar tiki torches challenge. In one corner you have the Moonrays 91206 Solar Powered Tiki Torch Path Light
which uses one amber LED and one flickering amber LED to simulate that raging ball of fire that excites and tantalizes our senses - but in a much more subdued way and without the sooty smoke and kerosene smell.
In the other corner is the Paradise Lighting GL23922 Solar Bamboo Look Tiki Torch which uses two flickering LED lights instead of the one fixed and one flickering and has a round top vs a more square top on the Moonrays Solar Tiki torch.
Moonrays Solar Tiki Torches vs Paradise Lighting Tiki Torches
Other than the difference in the lighting style both solar tiki lights are pretty much the same, both run on Rechargable Ni-Cd batteries (included), both stand at 59 inches tall on bamboo tiki torch poles, both have a frosted lens, and both use eco-friendly solar charging panels to power them at night.
Based on the research I've done and the reviews of these solar tiki lights you may want to get different NiCd rechargeable batteries as the one's included don't last very long. Keep in mind that these are NiCd batteries and not the more popular NiMH rechargeable batteries, or new more powerful NiZN rechargeable batteries - I don't know if NiMH or NiZN batteries would work or not - but best to stick with the NiCd unless you really do want that flaming ball of fire atop your new tiki light. Just to be safe.
Look for the best price on these solar tiki torches for sale from eBay and have a flaming ball of fire good time by your pool or patio in no time.