Stay Powered in the Boonies with the Goodhope Solar Backpack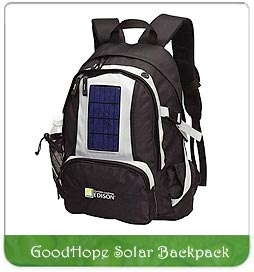 Goodhope Says: Travel in eco-savvy style with this solar powered Goodhope Solar Backpack. Fully charged, the G-Tech 5260 Solar Backpack provides 8 hours of power. Includes an AC adapter, USB adapter, and 6 popular cell phone attachments to power them up. Goodhope goes green with Ecoline, our newest range of Earth Friendly products that are stylish, functional and durable.
He Says: Goodhope bags is actually a supplier and usually deals with large orders with your business' custom graphics - they have a large number of options for custom graphics including debossing, embroidery, 3D rubber patches, and Lextra (a 3D build up of fibers into a rich logo).
So what does that mean for the rest of us who don't have the patience to track down a retail store selling these eco-cool Goodhope solar backpacks? Well, fortunately they do sell one off backpacks without graphics to individuals. Or, an even better option is to keep an eye out on eBay (click the photo above for current Goodhope solar products for sale on eBay). The last few times I searched for them on eBay they had at least one being sold by an enterprising individual who buys in bulk and offers them to us for a nice little profit - good news for us though is that we can pick one up for less than we could direct from Goodhope. Another place to buy a Goodhope solar backpack is Amazon, and I'll provide current Amazon listings for Goodhope Solar backpacks below, but Goodhope also has solar messenger bags as well as other cool solar products for sale.
She Says: The Goodhope Solar Backpack looks like a regular backpack but with high tech super powers that can run your cell phone, iPod, iPhone, iPad, ereader, digital camera, GPS, PDA or MP3 player all for free! Now that's a backpack everyone needs, am I right? This solar backpack has plenty of pockets for all day trekking or around town hiking. This is a great bag for all of us who get lost in the woods and need to phone home. (to brag that we are calling on our fully charged cell phone from our walk in the sun of course) This Goodhope solar backpack may not have as many high tech features as the Voltaic Solar Backpack, but in my opinion it is way more stylish - the contrast between the blue solar panels and the white and black nylon is very eye catching.
Goodhope Solar Backpack Features and Specs
• Made of super strong 1860D ballistic nylon
• Laptop sleeve inside the roomy main compartment
• Zip compartment up front with a full organizer
• Small zip pocket for a phone, keys and small items
• Mesh water bottle pocket, and a side pocket
• Ultra-padded, breathable back & adjustable straps
• Overall Dimensions: 18" H x 12.75" W x 7.75" D
• Highly innovative Solar Charging System (SCS) which can be charged using an A/C adapter, or with direct sunlight to supply 8 hours of power
Find a Goodhope Solar Backpack for Sale on eBay
No items matching the keyword phrase "goodhope solar backpack" were found. This could be due to the keyword phrase used, or could mean your server is unable to communicate with Ebays RSS2 Server.