Voltaic Systems VSY1001 Solar Backpack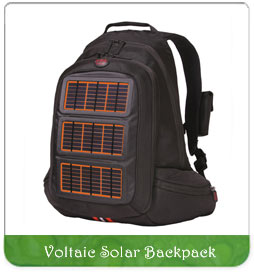 Voltaic Systems Says: The Voltaic solar backpack is a mobile solar power generator designed to charge virtually all handheld electronics. Voltaic bags also use 600D fabric made from recycled PET (soda pop bottles). Recycled PET fabric is lightweight, extremely durable, UV and water resistant. Most importantly, it uses significantly less energy to produce than nylon. Voltaic solar backpacks are both eco-friendly and fashionable!
He Says: Ok, when I came across my first solar backpack in an issue of Popular Mechanics magazine I was thinking "now that's a good idea!" I mean it's such a simple idea - we all spend time outside in the sun hiking, camping, walking to class whatever - why not take advantage of the sun to power all our gear? In the reading I've done the Voltaic Solar Backpack is one of the most popular out there and the real deciding factor for me was the recycled PET material (Polyethylene terephthalate in case you were wondering - in other words plastic bottles). The fact that you can save money by recharging all your gear with the sun and the actual backpack is made of recycled material won me over - I picked this backpack over others that were more stylistically impressive (but functionally inferior).
One thing to note when considering to buy this solar backpack is that, while it has the capacity to carry your laptop it doesn't have the power to charge it. Voltaic does have a solar laptop bag that produces nearly 15 watts of power that would do the trick, but then you are paying double the price. For us eco-tech-geeks what's a few extra dollars for being the first to get a new toy right?
She Says: The Voltaic Solar Backpack is perfect for college students or anyone who spends a lot of time walking outside. If you are one of those people who are into the latest tech gear this backpack should make your list of new toys to try. This backpack is one of the top rated solar backpacks on the market. Stylistically there is room to grow, but this solar backpack is gender neutral so guys and girls can feel comfortable with this bag. I do like the orange tinted solar panels which give it a bit of life (they also make green, silver, and black). The biggest appeal for me is it's functionality - I mean who couldn't use free solar energy to power their gear - sounds like a win win to me.
Voltaic Solar Backpack Features and Specs
4 watts of solar power from three waterproof solar panels for fast charging.
3.6 volt, 4,400mAh Li-Ion battery pack which stores power until you need it, when not in the sun, the battery can be charged using the AC travel charger or DC car charger
11 standard adapters for easy connection to handheld electronics including a car charger socket and a USB adapter so you can use a standard charger for your device
Fully padded laptop sleeve for up to a 17" laptop
Wire channels throughout the bag for headphones and bladder tubes
Adjustable phone / MP3 pouch on the shoulder
High density padding in the shoulder straps and back
Mesh backing material for better air flow
Find the Latest style of Solar Backpack for Sale on eBay
Since this post Voltaic Systems has released an updated version of this solar charging backpack called the Voltaic Systems Off-Grid Solar Backpack with updated solar technology.
This review of the Voltaic Solar Pack is part of our He Said She Said review series, look for more eco-friendly backpack reviews in the series.