I was looking through a box of junk in the closet this morning and I came across several disks of a cedar branch that had somehow found their way into my possession - probably for some art project that was never finished (or started for that matter since I still had the wood disks).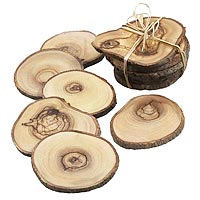 I thought to myself "what in the world can I do with these?" Coincidentally this evening I was searching through eBay's World of Good for gift ideas and I came across a Fair Trade company from the West Bank making and selling olive wood coasters (last I looked I wasn't able to find them anymore but these hard wood coasters for sale are similar) - bingo! I had my earth friendly gift idea and a fun DIY project all rolled into one.
How to Make Wood Coasters with Simple Supplies and Tools:
What You'll Need to Make Wood Coasters
• A dry tree limb - the best wood for making wood coasters is up for debate, but if you use a wood with a nice grain you can't go wrong. I like Olive or Cedar myself because you can use them unfinished and they have a great smell.
• Miter saw (a hand saw will work but you'll need to do more sanding - or just claim the unique shape of each coaster was intentional)
• Sandpaper or sander
• A natural stain (you could also carve into the wood or use a wood burning tool if you wanted to get real creative)
• Sealer or finish
• Felt or cork for the bottom if desired
• Glue (not to glue your fingernail back on but to hold the felt in place)
• Nice fancy ribbon to tie them all together (or just toss 'em on the table and throw a beer on top depending on your level of refinement and class - there's nothing wrong with the beer method, it's just that you have to use all that ribbon that's taking up room in your closet anyway)

Watch High School Kids Making Wood Coasters
The Process of Making Wood Coasters
So on to the fun part: slice up 5 or 6 pieces of the tree limb about 3/8" thick (I suppose I should add carefully in there, make sure that branch is tightly secured! And use safety goggles because you look cool in them trust me)
Sand one side until it's nice and smooth, slap on some natural stain or carve a nice picture or practice wood burning ancient hieroglyphics - polyurethane that baby so she's nice and waterproof, glue on the felt or cork and you are ready to enjoy the fruits of your labor.
If you'd like a visual take a peek at the video above for a little demo on how to make wood coasters with a miter saw from a high school shop class. They cut their coasters to 1/4" which is a bit thick for my tastes but you can go with what looks right to you.
If you aren't the Do It Yourself type (or simply want a quick option for a gift) then you can always turn to the fine folks at eBay - and the pre-made hard wood coasters for sale below.
Click Here Now to Watch The #1 DIY Hack
That Takes Anybody from Zero to Woodworking Hero in No Time.
By the way if you do a lot of woodworking or you just like showing off with the newest "toys" take a look at the DIY Smart Saw! It's like a 3D printer for woodworking and you can make one yourself!
If you can dream up a project this smart saw can carve it perfectly every time. From toys to furniture to kitchen cabinets to 100 foot roller coasters (ok fine that might be a bit hard to do). If you do any kind of woodworking, even these wood coasters, it wouldn't hurt to check out the DIY Smart Saw. See if you can save some money and impress your friends and family with your new woodworking super powers.