As I sit here with my hot mug of Jasmine Dragon Phoenix Pearls tea laced with a bit of oolong I longingly look outside and wonder what it would feel like to bask in the warmth of a natural hot spring right about now. I suppose I shouldn't complain it is a balmy 31 degrees out, but there is a bit of a nip in the air and I can see a faint whiff of the seasonal cold bug flitting through the air.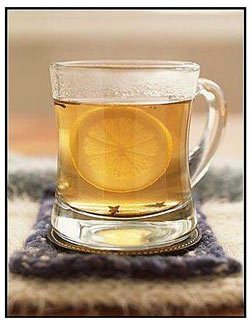 My thoughts turn to a past article on the many benefits of lemon that sits atop my blog fodder pile and my attention is peaked by the mention of bourbon. Bourbon and lemon the natural cold and flu fighting wonders of the world. And let's not leave out honey - our poor honey who is feeling left out of the celebration (and shame on us to forget about our honey so close to Valentines Day).
It is an age old natural cold remedy the use of lemon, honey and bourbon to fight off sore throats and stuffy noses.
In fact Mr. Hot Toddy as he is so affectionately called by some, has been with us since the nineteenth century in India and the UK - a fine place to enjoy the herbal delights of such a concoction as the cold wind whips over the cobblestone streets and the gas lamps belch their sputtering coal powered flame.
But alas, today in my comparatively warm home I enjoy my tea and wonder if perhaps something stronger might fight off the cold a bit better. But alas again since my first alas was the former I am without the natural cold fighting comfort of bourbon, but perhaps if you are lucky (yet unlucky enough to be besotted with the lover called the common cold) to have a bit of bourbon you might try an evening dance with Mr. Hot Toddy.
Try This Hot Toddy Natural Cold Remedy
Hot Toddy Recipe for a Natural Bourbon Cough Cold and Flu Elixir
2 ounces bourbon whiskey
1/2 lemon, juiced (about 2 ounces)
Couple slices of lemon filled with cloves
Several cubes of diced ginger
2-4 ounces water (optional)
1 tablespoon raw honey or heck lay it on thick and shoot for a bit more
The mixture is up to you really depending on how intimate you want to get with Mr. Bourbon, basically mix up lemon, honey, water and bourbon to taste, add any extras like clove or ginger - heat that baby to a nice warm glow and enjoy before bed.
For me I have a date with more tea - if you've enjoyed a dance with Mr. Hot Toddy please share your stories below (and please keep them to a respectful smolder there may be children peeking over your shoulder)