Celebrate Earth Day with a K&N Re-Useable Air Filter -
an easy way to Green Your Car.
With Earth Day roaring into town every year in April in case you don't really pay attention to such things, stores everywhere are gearing up to take advantage of you, err I mean to cash in on your devotion to being green, or to help you in your quest to be green (whether you think you need it or not).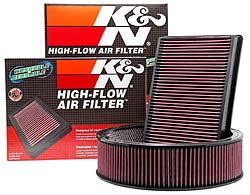 One product that I'm adding to my "must buy" list isn't as greenly glamorous as a huge solar panel array or even as handy as green household cleaners, but it will make your car breathe a little easier, and your pocket book will feel a lot greener as well - a K&N Air Filter.
I know you are thinking buy a green air filter - wow that's exciting! But K&N Engineering, Inc ("manufacturer of the world's best air filters" self proclaimed but many will back those claims wholeheartedly) make High Performance air filters that are washable so instead of throwing away your air filter every year you can re-use this one for the life of the car (they even back it with a one million mile warranty). Not only is the K&N air filter environmentally friendly it is far superior to regular air filters.
K&N filters are designed to increase horsepower and acceleration (K&N first developed air filters specifically for the motorcycle racing market) and while they don't claim a savings on fuel efficiency, after reading the efficiency gains reported by long term users of these air filters that certainly is the case for many - some seeing a 3-5 MPG increase.
A lot of exaggerated claims are made by automotive products claiming to improve gas mileage, which K&N won't do but they basically say, if you read between the lines "read what others are saying and you'll most likely get better gas mileage"
After reading the testimonials and reviews for K&N air filters and hearing people with all types of vehicles say they noticed improvements in power, acceleration and fuel efficiency I was sold. Not to mention that K&N recommends cleaning the air filter every 50,000 miles vs the 12,000 miles for replacing a standard air filter (for lazy car owners that is a huge benefit!)
And when you do need to clean your K&N air filter it isn't a big deal, just remove the air filter, soak it in warm soapy water, let 'er dry out and lube it up with a K&N Air Filter Cleaning Kit
which will only set you back 15 bucks or so and will last several cleanings - more than enough for the life of most cars. The cleaning kit restores air flow efficiency so your filter performs like new.
Look for a K&N Air Filter for your vehicle below (just click an image and enter your vehicle details to find the correct filter for your car)